Give 32: A Day of Penance
Penance: A voluntary self-punishment in order to atone for some wrong doing
I was a smoker for 15 years starting in my teens. I loved smoking. Cigarettes became my best friend. They were there through the good times and the bad. They were comforting and no matter what they stayed with me through thick and thin. Odd relationship I had … READ MORE
Day 31: Free Rice
Last night my hubby was watching the George Stroumboulopoulos Show. At the end of the show George generously gave me my GIVE of the day today.
George was encouraging his guests to go to a site called Free Rice.
It is an educational site that allows you to donate grains of rice as you test your intelligence with skill … READ MORE
Give 30: First Weekend Club
No, not "The First Wives Club" but "The First Weekend Club".
One of the most amazing things about having a public blog are the people you meet along the way.
In a recent post I wrote about an event I produce at this really interesting venue here in Vancouver called District 319. The space is and old … READ MORE
Day 29: Chef Ramsey Where are You? I'm Coming to Take You On!
GIVE 29 / DAY 29
Today I spent my "spare" time fundraising. I have been a fundraiser for many years, mostly through event production but also for many personal initiatives I have supported.
The difference today was I was doing it for myself and a cause I believe in.  If … READ MORE
Day 29: The Good Mood Gig
"Avoiding danger is no safer in the long run than outright exposure.
Life is either a daring adventure or nothing."
~ Helen Keller
I love it when people are really brave and do something that really scares them. It could be sky diving or calling someone for a first date. Fear is fear but the satisfaction of working … READ MORE
Day 28: The Unsung Hero
Chef's Challenge Update:
I need your help.
On November 21, 2010 I am traveling to Toronto to participate in a fundraising event called the Chef's Challenge for a Cure. I will be going head to head with celebrity Chef Gordon Ramsey. My goal is to raise $10,000 in support of Women's Cancer's at Mount Sinai Hospital. All donations will … READ MORE
Day 27: One Dime at a Time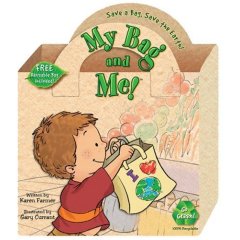 As I mentioned in a recent post one of my many jobs in our family is to grocery shop. I think I am in the grocery store approximately every other day. This post isn't about food, it's about bags. When my son turned 1 year old, he received this great book called My Bag and Me. and it's is one … READ MORE
Archives by Month:
Archives by Subject:
Archives by Year: